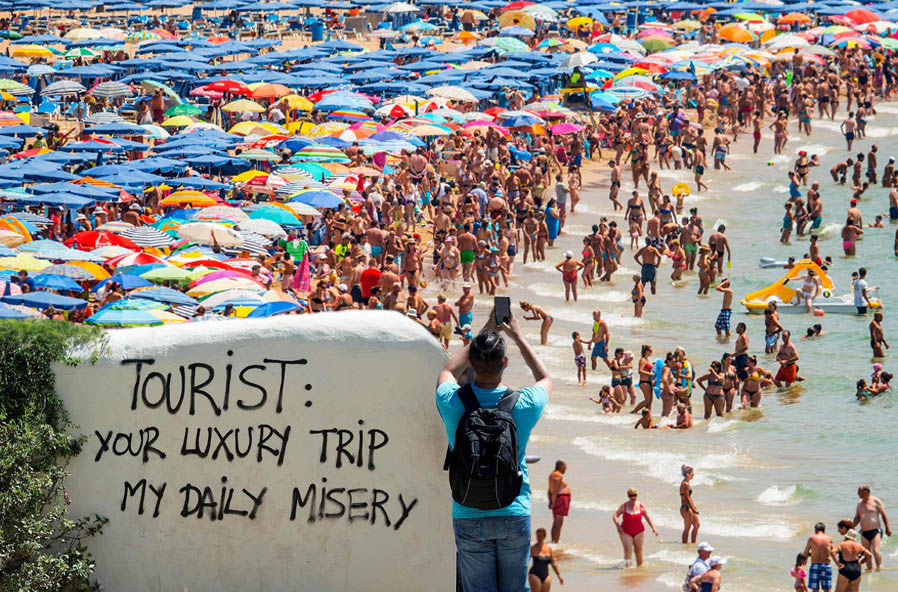 So, traveling is cool now and all of us are spending our money trying to discover the hidden treasures, the thing is that now there are no hidden treasures, as soon as a blogger publishes a post promoting certain place, PUM the place is ruined. We all want to experience an out of the beaten path trip, we all want to post that on Instagram, we all want to feel special, but our attempts of uniqueness are ruining cities not only for tourist but also for locals.
After almost 4 years running tours I´ve seen my city evolve, from a curious place to travel to the must wanted venue,  Condesa, my neighborhood has changed, several apartment buildings kicked out their tenants to transform all the apartments into Airbnb rentals, don´t get me wrong my city is my favorite city in the world, I love to have people here, this is my business and I make money out of tourism, but I also believe in a sustainable way of traveling, I believe in tourism that makes a city richer, I believe in cultural exchange, and I believe in respect.
Last week while visiting Jamaica market a tour group of 20 people invaded the area, their tour guide (not Mexican) completely disrespected vendors and clients, they came out of nowhere like a tornado, taking pictures, invading the hallways, blocking the vendor's stalls and preventing customers from shopping. I felt nauseous, this is exactly what makes vendors become aggressive, scammers and abusers. This is what makes Parisians so rude to tourists, this is what ruined Barcelona and Venice, I don´t want my city to become a second Venice.
Imagine that you are in your favorite whole foods, farmers market, little shop or whatever place you go for shopping, and suddenly a horde of people with cameras arrive, start taking pictures of you, block your way and prevent you from reaching the apples you intended to purchase, they spent 20 minutes there, touching the products, taking pics, posing for selfies and then leave. You will for sure hate them, the owner of the shop will allow them to get in maybe 3 times but after realizing these guys are going to come in, and not buy he will start raising prices, harassing you to make you buy something and even charging you for taking pictures.
Picture yourself as a tourist visiting this shop and feeling abused and disrespected because this vendor is rude and moody, you wish to have a good experience, a local experience, but mass tourism has ruined this, taught the vendors that tourist is bad business and needed to be overcharged, you´ll hate the city and you'll hate the market, nobody wants to feel scammed and ripped off.
So, next time you think about joining a 30 people group tour, think twice, small groups like mine or other small companies in the city are better, you will be able to experience the market without interfering with local´s life, you´ll go, explore, eat, shop and interact with locals without being a jerk that only comes like a tornado, destroys everything, takes a selfie and leaves.
The markets and the city are my life, the vendors are my family, I love them and respect them, every vendor we visit gets a paid because I know that I´m distracting them from their job, I know that my max 6 people group is using his time and resources, this way the vendors will be happy when they see a tourist, they´ll want to help you, protect you from scammers and make you feel happy, also locals will stop making disgusted faces when they see you coming, instead they will greet you, and try to get to know you, and for the love of god, don´t take pics of them like they are animals, they are just like you, how would you feel if a random tourist takes a pic of you when you are having a coffee?.
Please, help me on this crusade to save my city from mass tourism, please come with your smile, curiosity, and good vibes, my city is awesome and I know you´ll fall in love with every aspect of it, but if you want to keep Mexico´s city awesomeness for the future generations, don´t travel like a jerk.
0